GEOBIZ projekat | Jačanje kapaciteta akademskih institucija za bolji odgovor na potrebe geoinformatičke industrije
Wednesday, August 3, 2022 - 22:10
GEOBIZ Erasmus+ program: Higher Education – International Capacity Building
(Business driven problem-based learning for academic excellence in geoinformatics)
N° 610225-EPP-1-2019-1-HR-EPPKA2-CBHE-JP

Glavni cilj GEOBIZ projekta (https://geobiz.eu/) je jačanje kapaciteta akademskih institucija za bolji odgovor na potrebe geoinformatičke industrije u Albaniji, Bosni i Hercegovini, Kosovu, Moldaviji i Crnoj Gori sa naglaskom na sljedeće aspekte:
Uspostavljanje novih i inovativnih oblika saradnje biznisa i akademije za podršku interakciji u procesima nastave/učenja u geoinformatici.

Uspostavljanje poslovno-akademske platforme koja podržava izvrsnost u geoinformatici.

Razvijanje inovativnih programa obuke nastavnika i praktičnih metodologija nastave/učenja i sadržaja u tehnološki zasnovanim kursevima geoinformatike koji su oslonjeni na potrebe i iskustvo privrede.

Implementacija najsavremenijih tehnika u nastavnom procesu iz oblasti geoinformatike.
Za postizanje glavnog cilja, definirani su specifični ciljevi projekta i do sad je implementirano sljedeće:
Na Univerzitetu u Sarajevu su organizirane dvije radionice sa predstavnicima poslovnog sektora iz oblasti geodezije i geoinformatike u cilju poboljšanja poslovno-akademske saradnje. Potpisan je Sporazum o poslovnoj saradnji između Univerziteta u Sarajevu i tri javna te četiri privatna preduzeća iz domena geodezije i geoinformatike, što predstavlja solidnu osnovu za buduću uspješniju saradnju poslovnog i akademskog sektora.

Nastavnici su učestvovali na uspostavljenim interaktivnim programima obuke za nastavnike na kursevima iz geoinformatike po bolonjskim standardima, a koji su dizajnirani u saradnji sa poslovnim partnerima iz projekta.

Stvoreni su tehnološki preduslovi za kvalitetniju edukaciju studenata, (uspostavljena/proširena je geoinformatička laboratorija) za Univerzitet u Sarajevu – Građevinski fakultet.

Razvijeni su i pilotirani modernizirani silabusi univerzitetskih predmeta (praktični dio). Razvijeni su kursevi cjeloživotnog učenja koji će se implementirati do kraja projekta.

Instalirana je tehnološka platforma za razmjenu primjera praktičnih zadataka iz geoinformatike među univerzitetima iz partnerskih država.

Ugrađena je kultura kontrole kvaliteta u projektu, njegovih rezultate i ishoda.

Omogućeni su adekvatni alati upravljanja za ispravnu implementaciju projekta.
GEOBIZ tim sa Univerziteta u Sarajevu - Građevinski fakultet bio je domaćin projektnim aktivnostima tokom međunarodne konferencije 13. Dana BHAAAS (Bosnian-Herzegovinian Academy of Art and Sciences, Sarajevo, od 23. do 26. juna 2022.
Organiziran je 16. PBM sastanak na Građevinskom Fakultetu (Slika 1) 23.06.2022;  Projekat je prepoznao značaj ove međunarodne konferencije te je u želji da poveća svoju vidljivost i kroz  dva simpozija održana 24.06. 2022., koji su tematski vezani, te projekat je financijski podržao konferenciju i oglašen kao srebrni sponzor . GEOBIZ Workshop o poslovno-akademskoj saradnji (slika 2) i Sastanak o napretku projekta (slika 3 i 4) održani su 25.06.2022.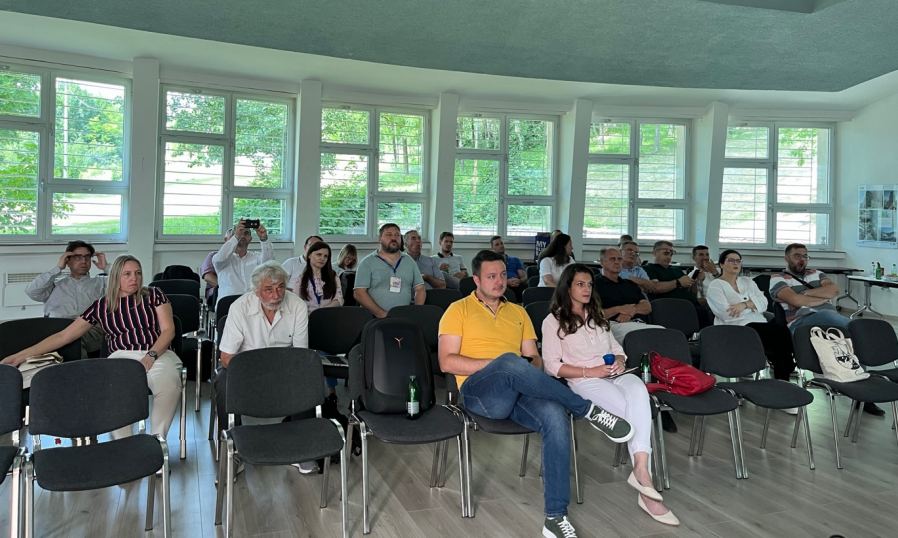 Slika 1: 16-ti GEOBIZ PBM sastanak organiziran je u hibridnoj formi na
Univerzitetu u Sarajevu - Građevinski fakultet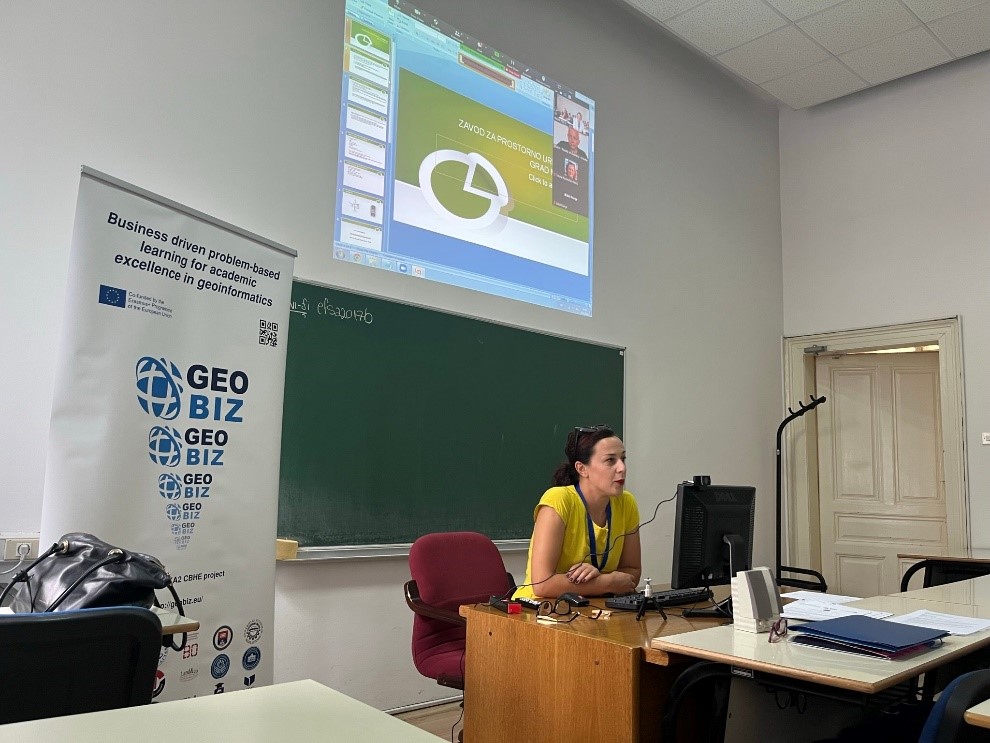 Slika 2: GEOBIZ Workshop o poslovno-akademskoj saradnji u Sarajevu (drugi krug) – Elvira Ćurić, Msc. Geodezije, prezentira javnu ustanovu Zavod za prostorno uređenje grada Mostara, potpisnika Sporazuma o poslovnoj saradnji sa UNSA.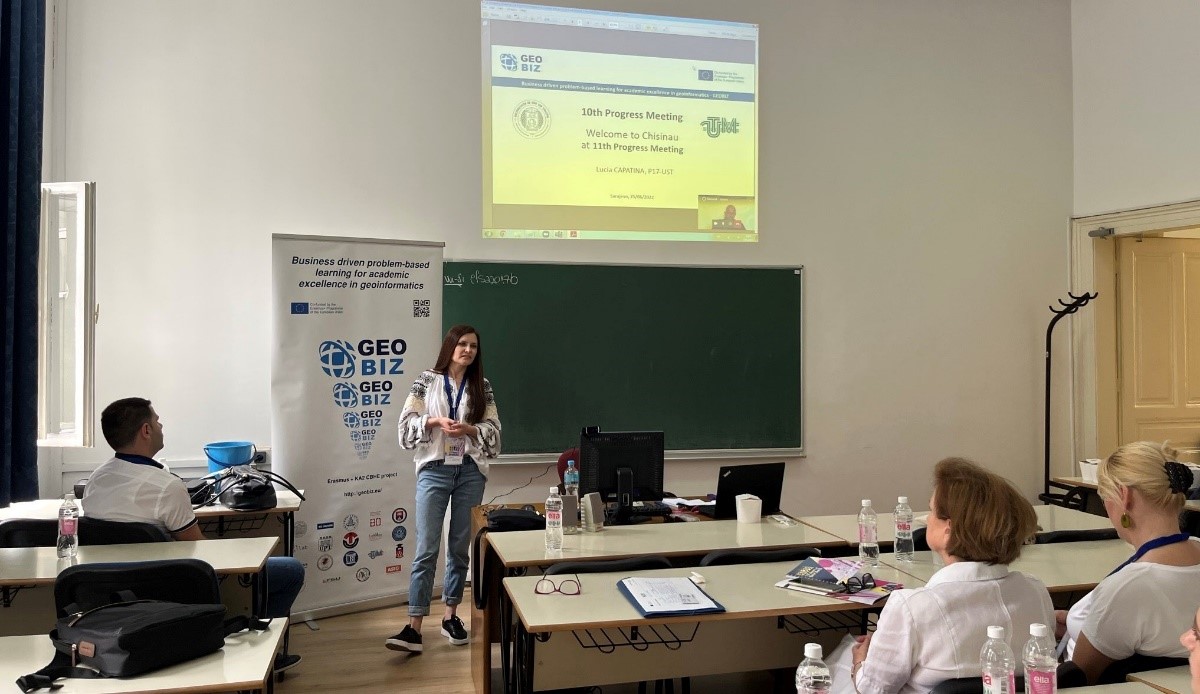 Slika 3: 10-ti GEOBIZ sastanak o napretku organiziran u hibridnoj formi:  Lucia Capitana prezentira sljedeći 11-ti Progress meeting planiran za Chishinau, Moldavija.
Slika 4. Učesnici 10-tog GEOBIZ sastanka o napretku i Workshopa o poslovno - akademskoj saradnji u oblasti  geoinformatike na Univerzitetu u Sarajevu – Ekonomski fakultet, 24.06.2022.